LCG Advisors Acquires National Background Investigation Firm, InSolu, Inc. to Expand its Services to Include Mission Critical Background Investigations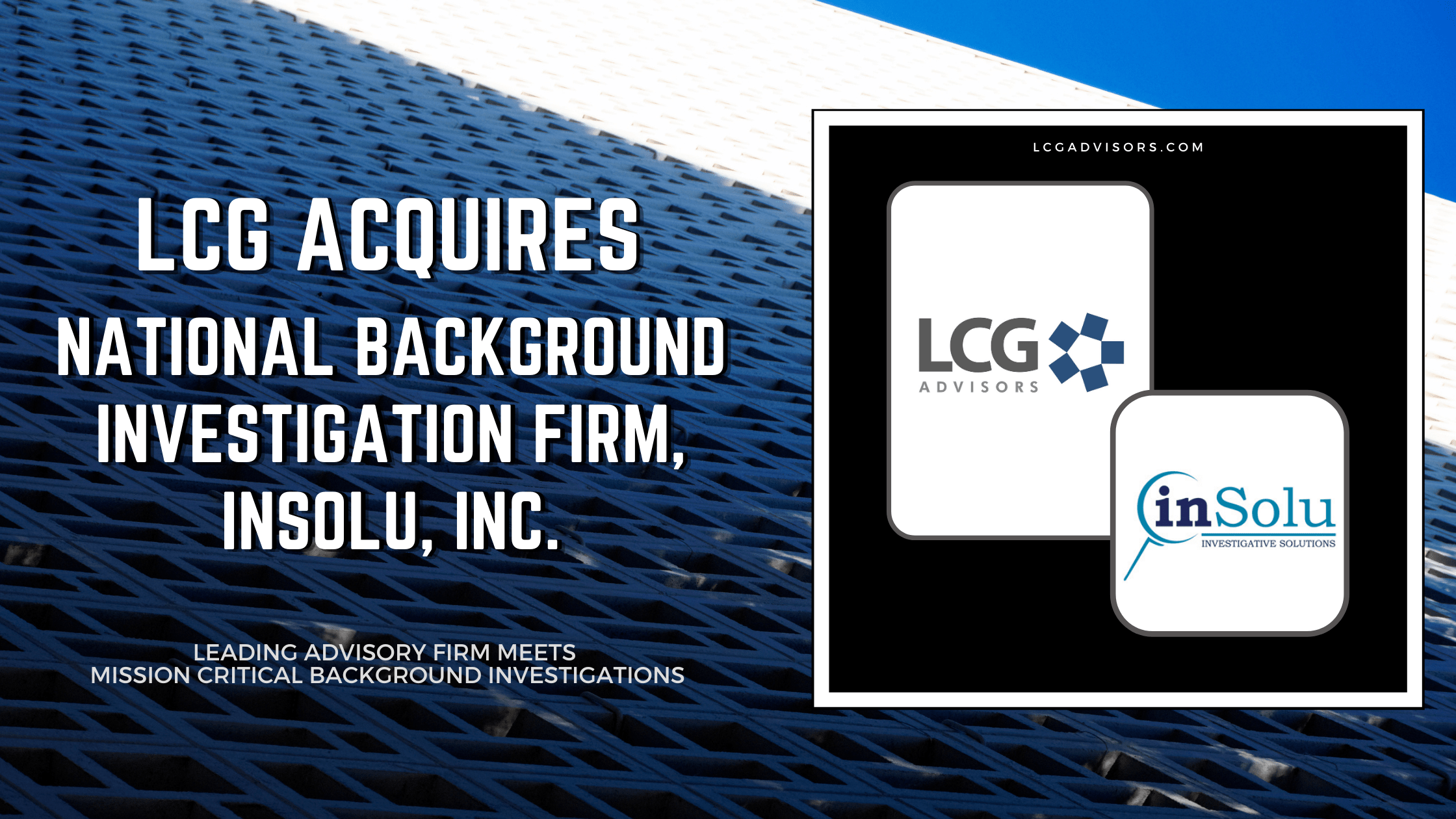 LCG Advisors, a leading Tampa-based transaction advisory services firm, has announced the acquisition of InSolu, Inc., a Florida-based executive background investigation firm.  InSolu has a 22-year track record of performing mission-critical background investigations working largely within the financial services and litigation support industries.  
The acquisition allows LCG, a national leader in the due diligence space, to expand its service offering to existing clients, which include banks, private equity groups, commercial finance companies, family offices, investment funds, and other institutional capital providers. 
Paul Epstein, Managing Partner of LCG stated, "InSolu's reputation for providing thorough and timely executive background investigations in the financial services sector over the last two decades was extremely attractive to us.  By expanding our due diligence capabilities to include not only the financial information but also the backgrounds of the business owners and key executives, we will add significant value and efficiency to the risk management efforts of our clients".   
Typical situations requiring comprehensive due diligence services include mergers & acquisitions, equity investments, corporate loans, strategic ventures, joint ventures, and complex litigation matters. 
Nona Patronite, CEO of InSolu, stated "Merging into LCG will help InSolu to meet our client needs, which have been increasing in volume and complexity.  Driving this demand is the heightened focus on personnel risks when closing deals and the challenging regulatory requirements especially within the financial services and healthcare sectors.  We couldn't be more excited to take on this new challenge with LCG!".   
InSolu will become the Investigative Services Group ("ISG") of LCG and will be housed within LCG's headquarters in Tampa, Florida.  ISG's services range from one-time or on-going employment screenings to highly complex, mission-critical investigative services.  Projects are tailored to the exact needs of a client and include both open-source information and an extensive array of proprietary source information.  
LCG Advisors is a leading advisory firm specializing in loan and investment due diligence, investment banking, corporate restructuring and consulting, business valuations, and other selected advisory services.  Founded in 2003, LCG's team of over 80 professionals throughout the U.S. is engaged on over 900 projects annually and has a unique window into shifting outlooks and trends within the capital markets.
Media Contact 
 Kris Hauser, Director of Human Capital Management  
khauser@lcgadvisors.com